Kristin High & Kenitha Saafir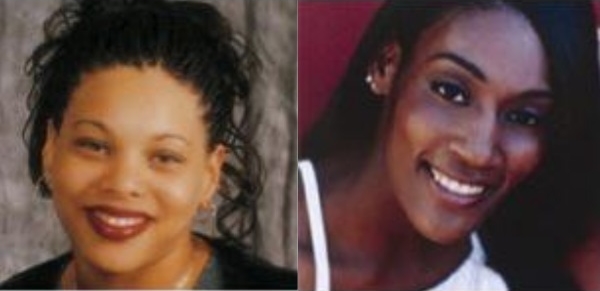 Sorority accused of hazing in $100 million suit
Tuesday, September 24, 2002 Posted: 5:10 AM EDT (0910 GMT)
LOS ANGELES, California (CNN) --
The family of a young woman who died in an alleged hazing incident filed a $100 million wrongful death lawsuit against the nation's oldest African-American sorority Monday.
Kristin High, 22, and Kenitha Saafir, 24, drowned September 9 at Dockweiler State Beach near Playa del Rey. The women were both students at California State University, Los Angeles, and were pledging the Alpha Kappa Alpha (AKA) Sorority. High was the mother of a 2-year-old and was engaged to be married.
Several members of the sorority were with them that night, along with two other pledges, according to the lawsuit by the High family.
A preliminary investigation by the Los Angeles Police Department determined the two deaths "appear(ed) to be accidental" and unrelated to the young women's efforts to join the sorority. Police are still investigating.
High's family says a private investigation tells a different story.
Saafir and High were "blindfolded and tied by their hands and their bodies and led into the rip tide conditions of the ocean," the family's lawsuit says. "That night, the waves were cresting at 6 to 8 feet and creating a strong under-current resulting from rip-tide."
The lawsuit claims the two women were forced to do this after days of losing sleep as they did difficult and embarrassing chores for sorority members.
And before they entered the water on the last night of their lives, "they were told to engage in a tiring set of rigorous calisthenics on the sucking sand of the beach," the lawsuit says.
The two women were wearing jogging clothes and tennis shoes when they went into the water, which would have made it more difficult for them to get out.
The lawsuit, which calls AKA's policy against hazing "a sham," names the Alpha Kappa Alpha corporation, the regional chapter, and the individuals from the sorority who were present that night.
CNN was not immediately able to get a response from the sorority.
At a news conference Monday, attorneys for High's family accused the local chapter of AKA of engaging in "a coverup."
They also said no one from the sorority has contacted the women's families.
High's mother, Patricia Strong-Fargas, asked the sorority to "stop these savage acts of passion in the name of sisterhood."
Holman Arthurs, High's fiancé and father of her son, said, "My contention is the Alpha Kappa Alpha sorority is responsible for the deaths of Kristin High and Kenitha Saafir as if they pulled a loaded gun, pointed it at point blank range and shot these two women."
Source : http://edition.cnn.com/2002/LAW/09/23/sorority.death/index.html?_s=PM:LAW
---

Five years later, still haunted by drowning
September 15, 2007|Sandy Banks
She doesn't talk much about her daughter these days. She's accepted the fact that Kristin is gone, that life goes on, that the answers she needs may never come.
It's been five years since police showed up in the middle of the night to tell Patricia Strong-Fargas that her 22-year-old daughter, Kristin High, had drowned in high surf at Dockweiler State Beach.
Police said it was an accidental drowning. Officers pulled the bodies of Kristin and 24-year-old old Kenitha Saafir from the water just before midnight Sept. 9, 2002. Television news reports would later describe the dead women, both Cal State L.A. students, as "coeds partying at the beach."
But a lawsuit filed in 2002 by Strong-Fargas alleged a more troubling explanation: The young women died in a hazing ritual while pledging one of the country's most venerated black sororities.
The sorority denied responsibility and said there was no official chapter at Cal State L.A. No criminal charges were ever filed against anyone involved. But the official explanations have never comforted Strong-Fargas.
Kristin was always a type-A daughter. Super student, athlete, campus leader, mother of a 2-year-old son. Joining Alpha Kappa Alpha was something she had always wanted.
But her mother said the weeks-long process of pledging was more grueling than Kristin had imagined. She'd straggle home late at night, exhausted and edgy. She wouldn't talk about what was going on. "I didn't worry as much as I should," Strong-Fargas said this week. "There were things I missed, because I trusted her. Kristin was always on top of things."
According to her family's lawsuit, Kristin, Kenitha and two other pledges were worked nightly to exhaustion, in sessions that often lasted until 1 or 2 a.m.
The night they died, the lawsuit claims, they'd spent hours at the beach doing calisthenics before they were ordered to walk backward into the ocean. A wave hit Kenitha and knocked her down. Kristin knew Kenitha couldn't swim, so she went in after her. Both were dragged by high waves under the water, the lawsuit alleges.
That is what Kristin's mother believes, based on witness accounts collected by the family's private investigator, Robert Freeman. She doesn't know for sure because the two pledges who survived won't talk to her.
The next day, when the young women brought Kristin's car home, her mother said Kristin's pledge journal was missing and numbers had been deleted from her cellphone. "They wanted to just drop the keys and run," Strong-Fargas said when I interviewed her this week at the small Christian school she runs in South Los Angeles.
"These were girls who had spent hours at our home, who had eaten with my family, played with Kristin's son. They were the only ones who could tell me what happened to my daughter. And they couldn't even look at me in my face."
Accusations of hazing surfaced almost immediately, but were never proven.
"I've had an easier time infiltrating street gangs than penetrating this organization," Freeman, a former cop, told me not long after the young women died, a few months into his investigation for the family.
Alpha Kappa Alpha leaders said from the start that the group had no role in the deaths. The sorority's chapter at Cal State L.A. had been suspended for hazing, so the pledging process was unsanctioned.
Like every collegiate Greek organization, the sorority has rules against hazing -- a "risk management" policy, their website calls it.
According to those who track hazing injuries, more than 80 pledges have been killed or injured around the country in the last 15 years during rites that involve binge drinking, beatings or extreme physical exertion.
But the deaths of Kristin and Kenitha had special resonance among Greek-letter organizations. "Their deaths were like 9/11 for fraternities and sororities," said Lawrence Ross Jr., the author of a book on black Greek organizations and an anti-hazing lecturer on campuses. "It forced a lot of people out of denial."
As a reporter, I covered the story when they died. I suspected from the first bare-bones account that this was no simple jaunt on the beach. Because when I was a college student, I pledged a sorority.
The insults, the paddling, the forced exercise routines that I endured went beyond humiliating and veered perilously close to dangerous. But I didn't balk.
Then, I believed the party line: Surviving brutality was a badge of honor, keeping secrets a measure of loyalty. Now, I'm not so sure.
I've always been glad that I pledged and proud I made it through. As difficult as it sometimes was, the process gave me confidence, and taught me to draw on an inner strength that's served me well in adulthood.
But then I made it out alive.
Now, 35 years down the line, I'm no longer courting the respect of would-be sorority sisters. I'm a mother with a daughter in college. And I'm wondering what secrets I'll be willing to share if she comes to me one day and says, "Mom, I'm thinking of pledging a sorority."
The full story from that night may never be told. Both families sued the sorority. After months of depositions -- and Strong-Fargas sat through every one -- the lawsuits against Alpha Kappa Alpha were settled. The deal that kept the cases out of court included a financial payout that the families are not allowed to disclose and a promise by the sorority to work harder to end hazing.
Today, to mark the fifth anniversary of her daughter's drowning, Strong-Fargas is speaking at a forum on hazing, where students and parents can talk about how to recognize abuse and stand up to it; how to tell the difference between a wacky request and a dangerous stunt that could lead to death.
Source : http://articles.latimes.com/2007/sep/15/local/me-banks15
---
RIP
Voir d'autres photos ICI
Kirstin's Family
Holman Arthurs, fiance' of Kristin High, is consoled by Kristin's aunt Joyce Christopher + #
A memorial on the one year anniversary of the drowning of two Cal–State LA students allegedly from a sorority hazing at the Holy Chapel Baptist Church in Compton. Pic, shows Patricia Strong Fargas, mother of victim Kristin Raychelle High(right) during the memorial. Next to her is Holman Arthurs(fiancee of the victim) and their son Skyler Arthurs, 3 during the service.